A project to construct the Andrew N. Liveris Building is underway.  The new 11-storey chemical engineering building is scheduled to open in 2021. 
The main works have commenced - the main contractor, Hansen Yuncken, has taken possession of site.
Associated information
Staff House Road works - 2 Jan-1Feb 2020Traffic managementProject progress photosOverall project information
Monthly project update - December 2019
This upcoming month Level 3 of the main structure will be poured, the Level 4 deck formed, and the ramp from Staff House Road will also be formed up before the construction team break for Christmas.
An overview of upcoming works on site this month is as follows:
MAIN TOWER
Structure Level 3
Pour 1:

Install hydraulic cast-ins and electrical conduits
Post tensioning installation, first and second stress, and grouting
Formwork to setdowns and then clean deck
Install reinforcement, form and pour columns

Pour 2:

Pour Form deck
Beam, top and bottom reinforcements
Post tensioning installation and first
Install hydraulic cast ins and electrical conduit
Formworks to setdowns and clean deck
Post tensioning installation, first and second stress, and grouting
Install reinforcement, form and pour columns
Form one side of wall, install reinforcement, and pour walls
Structure Level 4
Stair Core 1
Level 3–4

Close up external walls
Pour core
Strip shutters and remove boxes ready for jump
Form landings and install stair master
Stair reinforcement and electrical installation
Pour stairs Level 1-2

Level 4–5:

Install jump
Set boxes/shutters
Reinforcement installation for internal and external walls
Stair Core 2
Level 5-6:

Set boxes/shutters
Reinforcement installation internal and external walls
Stair electrical installation
Pour stair landing
Close walls then pour walls
Crack and jump core

Level 6-7:

Form landings for stair master
Stair reinforcement and electrical installation
Pour stairs Level 4-5
Set boxes/shutters
Reinforcement installation for internal walls
Lift 6
Level 3–4:

Install wall reinforcement and column
Close shutters then pour walls
Strip external shutters
Quad Lift
Level 3 – Level 4: 

Lift and set boxes
Reinforcement to walls and install external shutters
PODIUM
Podium PT Slab

Pour 7: Post tensioning second stress and grouting and Strip Level 1 formwork
Upstand Wall WE.20 Grid C
Pour 1: Pour wall and strip formwork and remove scaffold
Pour 2: Install internal shutter, Reinforcement to wall, Install external shutter, Pour 2 wall and strip formwork
Loading Dock Pavement
Install hydraulic underground services, Subgrade preparation, and Install vapour barrier
Ramp
Traffic Management 
See the Cooper Road Traffic Management Plan (TMP) (PDF, 531.2 KB) for vehicular and pedestrian access details.
The following traffic management controls have been implemented on Cooper Road for pedestrian safety:
A pedestrian bridge is installed at the top section of Cooper Road between Chemistry Building (68) and Hawken Engineering Building (50).
A height bar is installed south on Cooper Road
Hours that Cooper Road is traffic controlled: Monday to Friday 6am – 2pm
At completion of shift, the boom gates will be either removed or left in the open position to allow traffic to flow.
A schedule of deliveries is to be sent to Hansen Yuncken via email by 2pm the day before. Email to be sent to gpaku@hansenyuncken.com.au and everhoef@hansenyuncken.com.au and cc to gmiller@hansenyuncken.com.au
Courier deliveries will be assessed when they arrive at the boom gate on Cooper Road. Drivers to have details of who is receiving the delivery and they will need to call that person and have them meet them at the Coopers Road gates to receive delivery.
Site works - progress photos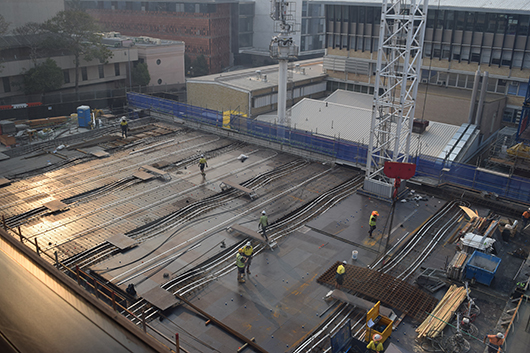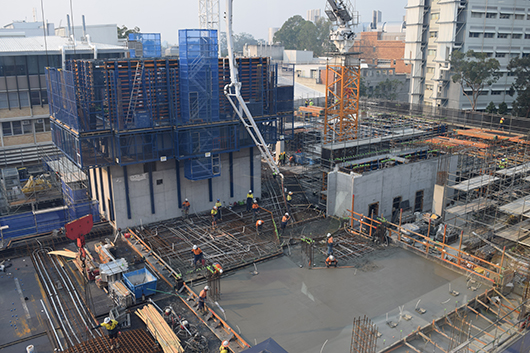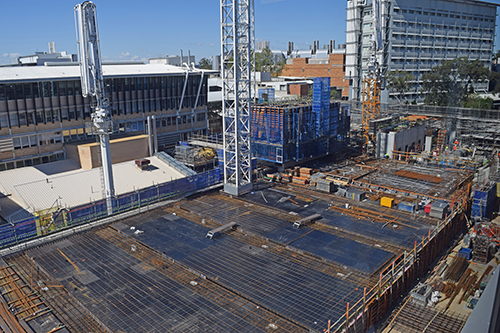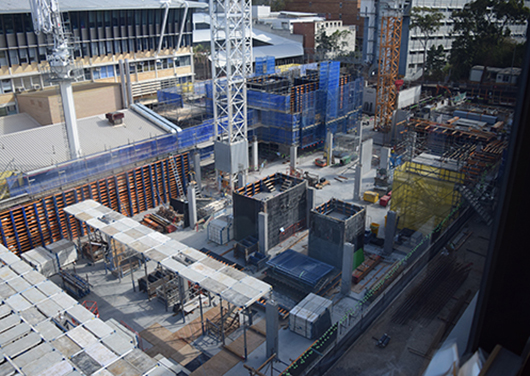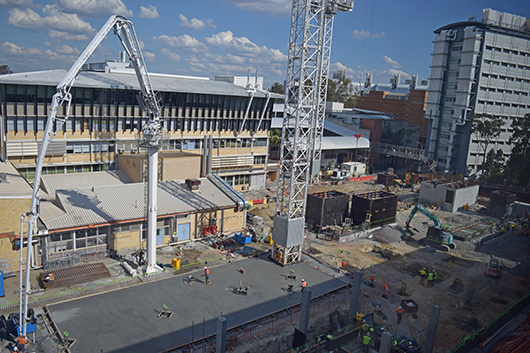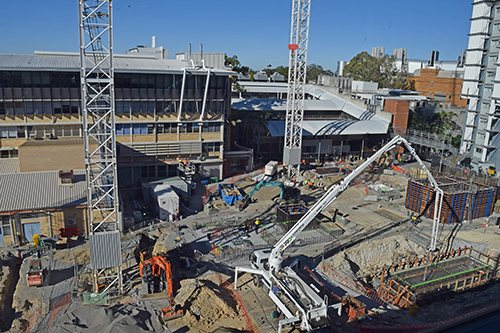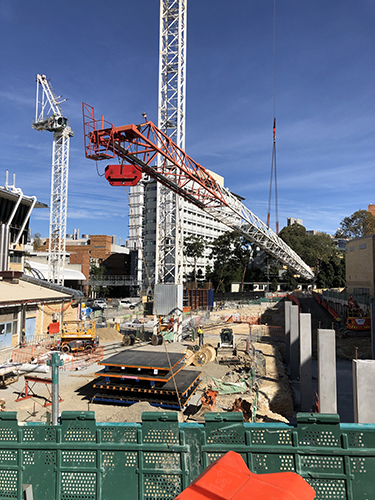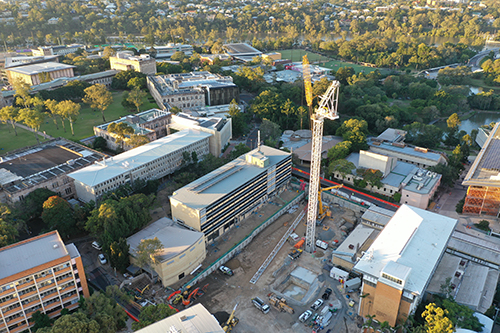 ---
Overall project
When
Start: 25 June 2018
Finish: January 2021
Work details
Early works to demolish the existing buildings, prepare pilings and level the site began on 25 June 2018. 
Trucks will access the work site via Staff House Road throughout the whole project, and there will be periods of traffic disruption, noise, vibration and increased dust. UQ's Property and Facilities Division will work with the contractors to minimise the impact of the work on sensitive research equipment, teaching activities, pedestrians and other activities near the site. Power, water and data services to nearby buildings will not be affected.
Project information is available from the P&F projects and initiatives website and UQ News.
Further updates to the building works program and disruption notices will be available from this web page.
Contact
Jane Carr, Project Coordator Major Capital Works