A project to construct the Andrew N. Liveris Building is underway.  The new 11-storey chemical engineering building is scheduled to open in 2021.  The main works have commenced as detailed in the Briefing Session document (PDF, 7.5 MB). The main contractor, Hansen Yuncken, has taken possession of site.
Associated information :
Emergency evacuation drill - Tuesday 23 July 2019
1 July update - upcoming works
This upcoming month will see the majority of in-ground works completed on the Liveris project and the Tower Crane utilisation ramp up. A brief overview of upcoming works on site this month is as follows:
New driveway to ITS Store on Cooper Road
Gate installation along Cooper Road
Excavation and installation of gas and nitrogen lines
Re-excavation, laying of HV conduits and backfilling trench
Remediation of subgrade for pumping station, and boxing out, mesh installation and pouring of driveway and pumping station.
Installation of sewer and acid neutralizing tank in south-west corner
Installation of cast in-situ stormwater pits and 2x sewer lids cast in-situ
Forming the SW Lift pit and lift shaft walls
Forming the Quad Lift pit and lift shaft walls
Forming the drainage pit and walls
Excavation of strip footings in SE corner
Forming of substation pads, installation of pre-cast columns, and forming of substation walls
Forming base to Stair 1 and stair walls
Priming and waterproof membrane to Lift 5 walls
Satellite pumping station base excavation and forming base
18 June update - Traffic Management Plan
The Traffic Management Plan (TMP) down Cooper Road will be slightly altered in the next week or two.
Affected Areas:
A section of footpath on the northern corner under the pedestrian bridge, opposite Hawken Engineering Building (50) will be closed to widen the road to allow trucks to turn the corner. Pedestrian access routes are as shown by the green lines and arrows on the Traffic Management Plan (TMP) (PDF, 531.2 KB) drawing.
When:
Start: late June 2019
Finish: Semester 1 2021
Work Details:
Traffic management plan to be updated.
Footpath access under the pedestrian bridge on the Chemistry Building (68) side of Cooper Road to be closed.
Cooper Road to be widened at corner by incorporating the footpath.
Pedestrians to use either the pedestrian bridge or pass round the back of the Chemistry Building to Research Road to cross Cooper Road
Traffic Control
The following traffic management controls have been implemented on Cooper Road for pedestrian safety:
A pedestrian bridge is installed at the top section of Cooper Road between Chemistry Building (68) and Hawken Engineering Building (50).
A height bar is installed south on Cooper Road
Hours that Cooper Road is traffic controlled: Monday to Friday 6am – 2pm
At completion of shift, the boom gates will be either removed or left in the open position to allow traffic to flow.
Deliveries
The procedure for deliveries down Cooper Road for the foreseeable future (up to 2 years):
Schedule of deliveries to be sent to Hansen Yuncken via email by 2pm the day before. Email to be sent to gpaku@hansenyuncken.com.au and everhoef@hansenyuncken.com.au and cc to gmiller@hansenyuncken.com.au
Courier deliveries will be assessed when they arrive at the boom gate on Cooper Road. Drivers to have details of who is receiving the delivery and they will need to call that person and have them meet them at the Coopers Road gates to receive delivery.
Project Progress Photos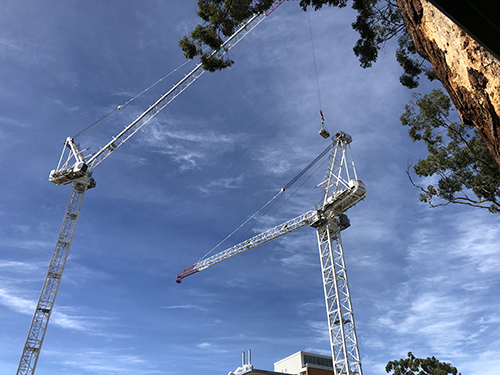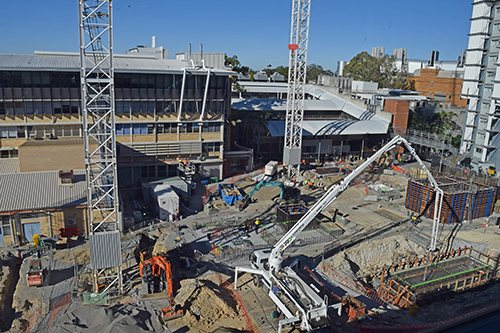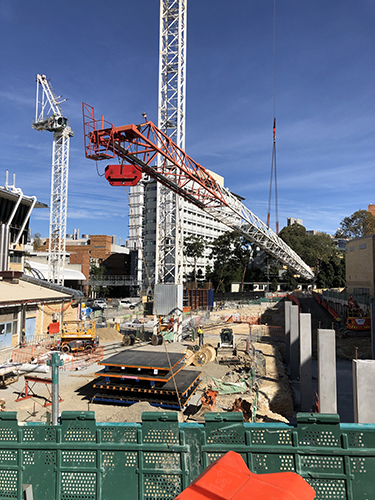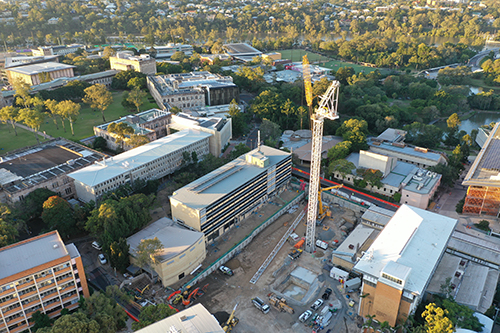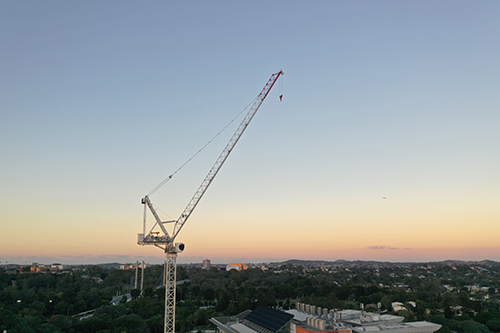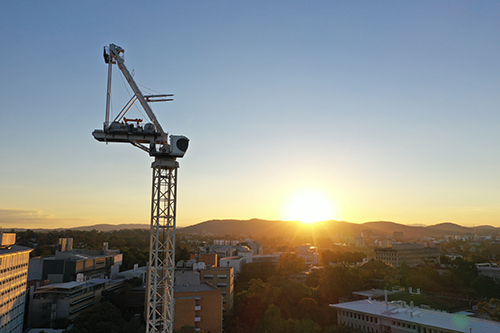 Overall project
When
Start: 25 June 2018
Finish: January 2021
Work details
Early works to demolish the existing buildings, prepare pilings and level the site began on 25 June 2018. 
Trucks will access the work site via Staff House Road throughout the whole project, and there will be periods of traffic disruption, noise, vibration and increased dust. UQ's Property and Facilities Division will work with the contractors to minimise the impact of the work on sensitive research equipment, teaching activities, pedestrians and other activities near the site. Power, water and data services to nearby buildings will not be affected.
Project information is available from the P&F projects and initiatives website and UQ News.
Further updates to the building works program and disruption notices will be available from this web page.
Contact
Jane Carr, Major Capital Works - Operations Coordinator
Zak Williams, Senior Project Manager