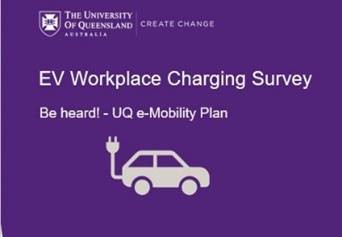 Do you own an EV or are you thinking on buying one? Need to charge your vehicle on campus?
UQ Sustainability is exploring the feasibility of establishing a workplace electric vehicle charging program. This initiative would involve installing additional EV charging stations at UQ campuses, for the exclusive use of staff.
Help us evaluate potential staff interest in this program at the Long Pocket campus and Herston campus by responding to a short survey.
We apologise for the inconvenience this may cause and thank you for your understanding during this time.