ROAD AND LINE MARKING WORK COMPLETED
These upgrades occurred from Monday 9 November 2020 to Sunday 31 January 2021. 
To help improve the safety and security of all students, staff and visitors on our campus and to prepare for Semester 1, 2021, P&F's Transport Systems Team have arranged an upgrade to road, bike lanes, pedestrian pathway, and car park line markings. 
We're also adding new line markings to re-direct bike lanes on Sir Fred Schonell Drive towards Macquarie Street to improve safety for cyclists and other campus users.
Please see image below of the short stretch of the dedicated bike lane on Sir Fred Schonnel Drive that will removed to redirect cyclists towards Macquarie Street.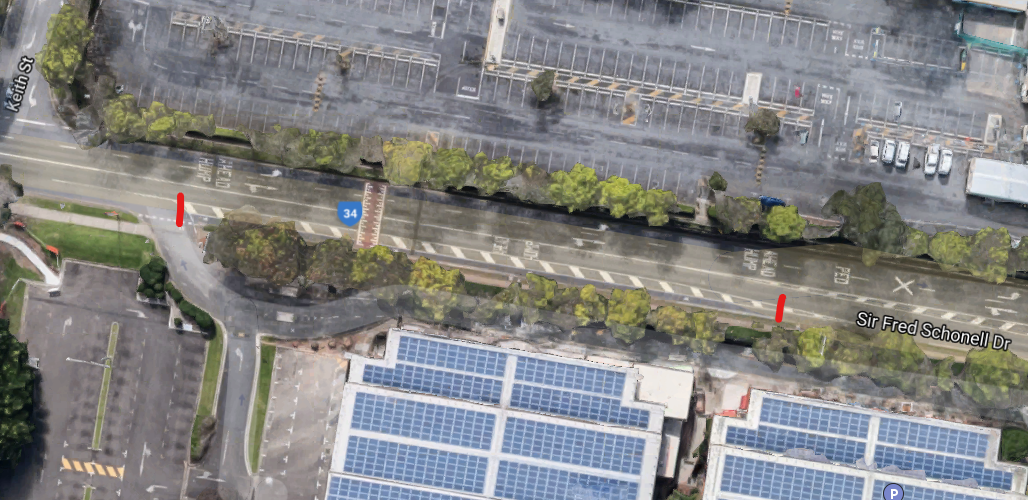 To ensure the upgrades can occur in an efficient manner, we recognise there will be some disruptions for the period of work.  
Disruptions include:
Restricting vehicle access to parts of the campus for short durations
Road and car park closures (more information to come). 
We don't expect pedestrian traffic to be affected, but please follow signage and traffic controller directions where applicable.
To reduce disruption, the contractors will be working 24 hours a day. We appreciate your patience and cooperation during these times.
If you have any questions about the upgrade, contact parking@pf.uq.edu.au.
Program of Works
Week One: Starting Monday 9 November to Sunday 15th November
Download Program here: Week One Program of Works (PDF, 621KB)

Week Two: Starting Monday 16 November to Sunday 22 November 
Download Program here: Week Two Program of Works (PDF, 211KB)