IMPORTANT INFORMATION: BRISBANE CITY COUNCIL INTERSECTION UPGRADE
Please be advised the Brisbane City Council is upgrading the Sir Fred Schonell Drive and Coldridge Street intersection in St Lucia to improve safety for road users and pedestrians.
The intersection has been the site of multiple serious collisions since 2014 and the project is part of the Australian Government's Black Spot Program and National Road Safety Strategy 2011-2020.
To reduce the disruption for the UQ community, the construction is planned to coincide with the university holidays, weather and construction conditions permitting.
View the Sir Fred Schonell Drive and Coldridge Street Black Spot Project Construction Letter - Brisbane City Council.

Schedule
Start: Sunday 3 April 2022
Finish: Thursday 5 May2022
Times: Sunday to Thursday between 7pm and 5am
Work details
For your safety and the safety of workers onsite, these works will take place at night when traffic is at its lowest. Works will involve replacing some of the existing traffic light infrastructure at the intersection which will include excavation work. Majority of the works will be lifting new traffic light lanterns and mast arms into place, which will be relatively quiet.
Project Details
The existing right turn from Sir Fred Schonell Drive into Coldridge Street will be upgraded from a filtered right-turn to a controlled right turn with a dedicated right-turn lane. To accommodate the new right-turn lane, the intersection will be reconfigured with the westbound through lane on Sir Fred Schonell Drive reduced from two lanes to one.
The northbound turning lanes on Coldridge Street will change from two right-turn lanes, to one lane, improving bus movements. 

To accommodate the upgrade, three informal car parking spaces on the western side of Sir Fred Schonell Drive between Coldridge and Warren Street will need to be removed
Site Map: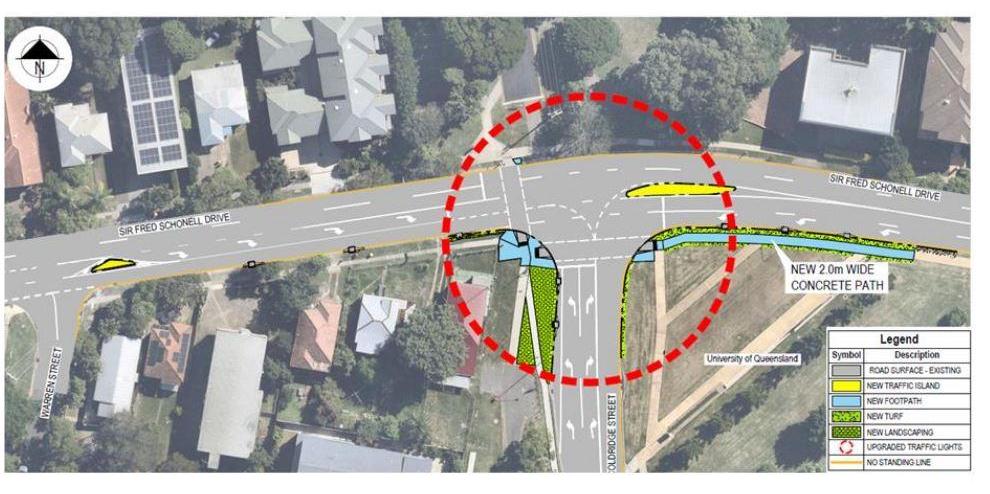 Contact
Brisbane City Council
We apologise for the inconvenience this may cause and thank you for your understanding during this time.