Please be advised, there will be pedestrian and vehicular impacts to the bottom of Jocks Road next week, to allow electrical and communications connections to take place.
Affected areas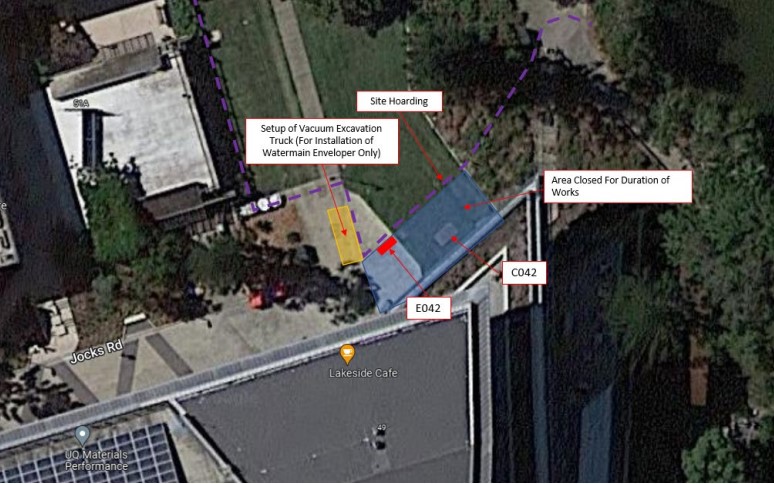 When
Start: Monday, 23 January 2023
Finish: Monday, 30 January 2023
Times: 6:30am to 5:00pm
Work details
Grassed area between the Lakeside Café and Site Hoarding and paved area at the end of Jocks Road will also be closed/impacted will be closed, to set up a underboring retrieval pit and make connections to the relevant pits.
This may impact access for vehicles on Jocks Road, particularly with turning around at the bottom of the road.
Access from the Lakeside Boardwalk up to Jocks Road via the existing staircase will be restricted intermittently.
Fencing and cones will be established to delineate the work zones from the public.
Traffic Control on site to manage vehicle and pedestrian movements.
Project details
The iconic UQ lake and amphitheatre is being transformed into a self-sustaining ecosystem that offers habitat for wildlife and more opportunities for people to enjoy the area.
More information can be found on the project website.
Contact
Casey Fredrickson, Project Manager (Infrastructure):
We apologise for the inconvenience this may cause and thank you for your understanding during this time.