The UQ Centre (27A) cladding replacement works are ongoing, and the notification below provides an update of the scaffold build on the roof of the UQ Centre Main Entrance.
Affected area & disruption

Time

Date

Entrance to UQ Centre on Union Road

Scaffold Build (extended duration)

Entry will remain open with an Exclusion Zone put in place to the front of entrance

Delivery of scaffold will have trucks parked in front of entry on Union Road.

Limited access to storage doors during scaffold build.

Lift to remain open.

Noisy works expected during scaffold build.

6:30am – 5:00pm

17/10/23 to 19/10/23

UQ Centre Other Elevations

Cladding replacement works continue on North, South, East and West elevations.

Deliveries to the hoist to continue at the north elevation.

6:30am – 5:00pm

Ongoing
Figure 1: UQ Centre Entrance affected areas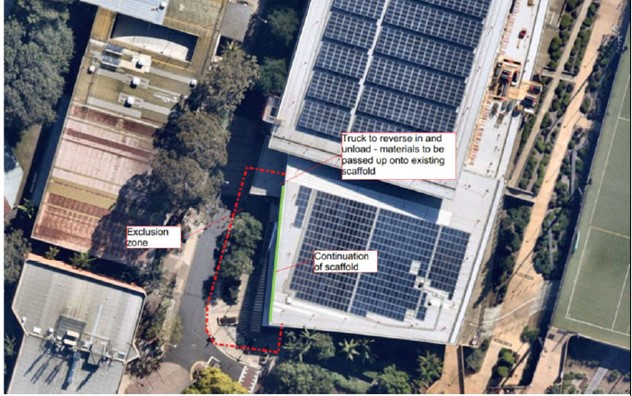 Project details
UQ Centre, St Lucia cladding replacement project. Refer to the Façade Replacement Program website for more information.
Contact
Johnny Hegerty, Project Manager:
We apologise for the inconvenience this may cause and thank you for your understanding during this time.