Please be advised there will be some disruption at Sir Llew Edwards (14) as per the Figure 1 mark-up below for facade defect rectification works.
Affected areas
Duhig Laneway

Level 6 Balconies, including Terrace Room Balcony

Footpath access around Duhig Lane and at the corner of University Drive and Campbell Rd

Bike racks adjacent to Campbell Rd entrance
When
Start: Monday, 10 April 2023

Finish: Saturday, 29 April 2023

Times: 6:00am to 5:00pm
Work details
The contractor will be returning to site to complete some defect rectification works for the Sir Llew Edwards facade replacement works.
This will involve disruption to footpaths and Duhig Laneway, as per the Figure 1 mark-up below. Replacement of these facade panels and the use of boom lifts will create noise.
Figure 1 – Works Impacts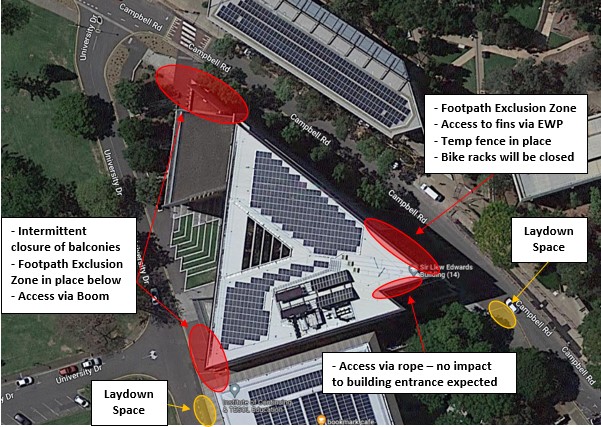 Project details
Sir Llew Edwards Facade Replacement Project
Contact
Casey Fredrickson, Project Manager (Infrastructure):
We apologise for the inconvenience this may cause and thank you for your understanding during this time.