There will be a disruption to the lifts, lift machine room (305b), and the surrounding areas within Steele Building (3) at St. Lucia, whilst the lift and its associated infrastructure are upgraded. 
A laydown area for the lift contractor will also be located within the Great Court to facilitate the works.
Affected areas
Steele Building (3) Lift 14, Lift machine room (305b), portions of hallway areas immediately adjacent the lift doors on all floors

Contractors site laydown area within Great Court, adjacent the entry to Steele (3)

Loading Zone- Staff House Road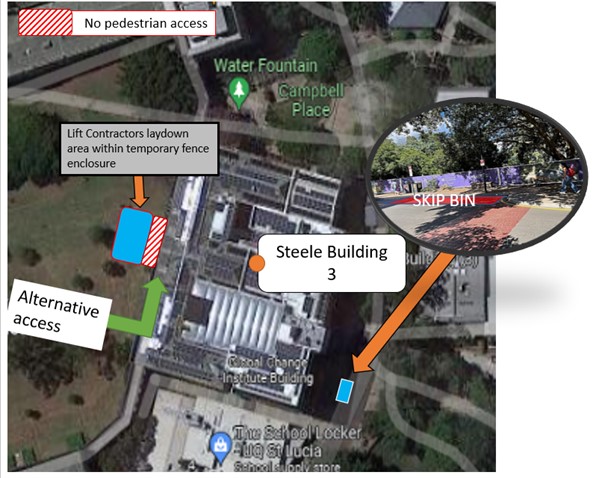 When
Start: Wednesday, 5 April 2023

Finish: Friday, 4 August 2023

Times: 6.00am to 5.00pm
Work details
Lift No.14 within the Steele Building will be unavailable for the duration of the works. The works will include removal and replacement of lift with a new modern lift, as well as the upgrade to associated lift infrastructure within the lift machine room.
Project details
Lift Modernisation Program- as part of P&F Asset Replacement Program
UQ Property and Facilities kindly request your cooperation whilst we complete this important lift modernisation, improving reliability of the lift and accessibility to Steele Building.
Contact
David Muir-McCarey, Project Manager (Infrastructure):
Sarah Selth, Project Manager (External- Turner & Townsend):
We apologise for the inconvenience this may cause and thank you for your understanding during this time.