Human Movement Studies (26B) will have some minor disruption as detailed in the below table. These works are a part of the cladding replacement program. The contractor will be conducting early works which involve the removing of external awning screens providing access to existing panels to take measurements.
Timeframe:  21 August 2023 to 25 August 2023
Affected Area & Disruption

Time

Date

Contractor to remove external screens and complete check measures against existing panelling as per

figure 1

below.

EWP and scissor lifts to be used.

Noisy works are expected due to beeping of machines and Power tools.

Entry/exit closed on southeast elevation (can be open during emergency)

Southern external pathways, in locations marked below, closed during EWP operations.

06:30am – 05:00pm

21 August 2023 - 25 August 2023

EWP and scissor lifts to be used to access windows on the eastern elevation of the building to investigate window leaks.

06:30am – 05:00pm

21 August 2023 - 25 August 2023
Figure 1: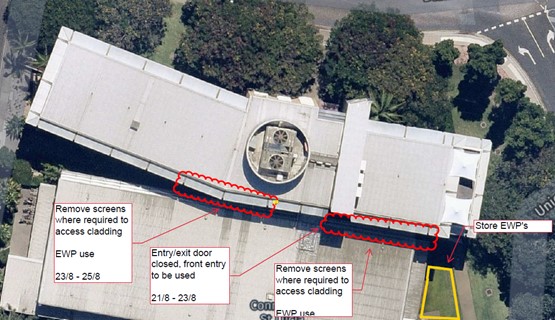 Project details
Human Movement Studies Building Façade Replacement project. Refer to the Façade Replacement Program website for more information.
Contact
Johnny Hegerty, Principal Project Officer:
We apologise for the inconvenience this may cause and thank you for your understanding during this time.