Construction works for the UQ Lake and Amphitheatre Renewal Project continue, with the recent dry weather enabling significant progress.
Works have progressed were possible through softscape/hardscape landscaping in the amphitheatre and the lake.
This project is expected to be complete in September 2023 (weather dependant), a timeline can be found on the project website.
Affected areas
Footpath adjacent to Connifer Knoll and the Lakes Bus Stop as per image below.
Work details
Date: Monday 31 July 2023 – Tuesday 1 August 2023
Time: All Day
Electrical Works Outside Boundary
On 31 July and 1 August, works associated with the connection of the Lakes distribution board to Substation 16 within the footpath area near Playing Field 3, as per the plan below. 
Whilst these works are taking place, the footpath between the UQ Lakes bus stop and the campus will be blocked off to facilitate cable pulling.

Pedestrians will be required to walk around the work area and cyclists will need to be mindful of pedestrian movements. Traffic controllers will be in place.
Image 1 – Cabling works 31 July 2023 – 1 August 2023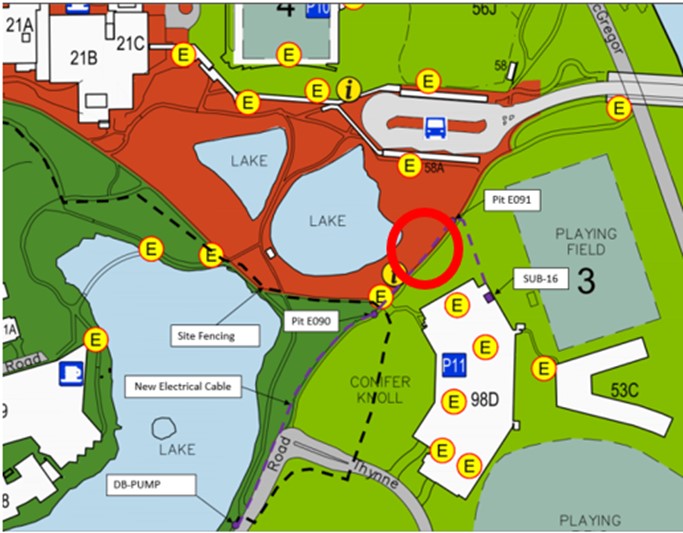 Project details
The iconic UQ lake and amphitheatre is being transformed into a self-sustaining ecosystem that offers habitat for wildlife and more opportunities for people to enjoy the area.
More information can be found on the project website.
Contact
Casey Fredrickson, Project Manager (Infrastructure):