There will be some disruptions to Jocks Road and the Amphitheatre due to construction activities for the Amphitheatre Pavilion Project.
The following notifications provides a lookahead for construction activities occurring over the next fortnight.
Affected areas
Zelman Cohen Building & Collaborative Design Laboratory

Building 41

Jocks Road

Lakeside Café
Lookahead: 16th October 2023 – 27th October 2023
Project Completion: Mid-2024
Activity

Time

Date

Delivery of site sheds:

Site sheds to be delivered via Jocks Road to the Amphitheatre area, final location nominated in Figure 1 below.

There may be some increased vehicle movement during these deliveries which may cause some noise.

Connection to services for these site sheds may require access to areas adjacent to the Zelman Cohen Building and Collaborative Design Laboratory

There will be some alterations to the site fencing to enable the above.

All Day

All Day

16th October 2023

w/c 16th October 2023

Earthworks:

Preparation of building pad for piling works. This will require some heavy vehicle movements along Jocks Road and compaction of these materials may create low levels of noise.

All Day

w/c 23rd October
Figure 1: Site Shed Location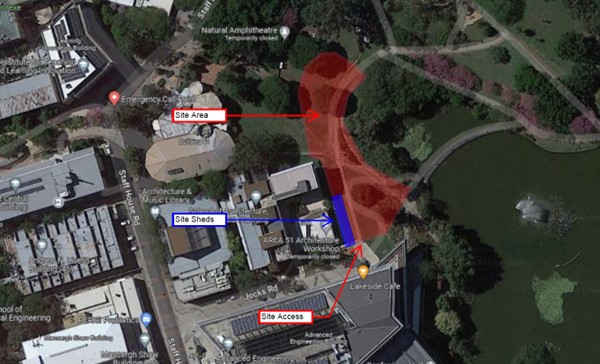 Project details
The Amphitheatre Pavilion construction is Stage 2 of the Lake and Amphitheatre Renewal Project.
Contact
Casey Fredrickson, Project Manager:
We apologise for the inconvenience this may cause and thank you for your understanding during this time.