Please see updates to previous notification highlighted below, including table text and reference imagery. There will be some traffic closures on Friday 2 June due to required gantry adjustments.
The UQ Centre (27A) cladding replacement works have commenced. The notification below provides a fortnightly lookahead for upcoming works.
This cladding project is expected to run from March 2023 until May 2024.
Timeframe: 19 May 2023 to 2 June 2023
Affected Area & Disruption

Time

Date

Western Elevation 

Cladding removal underway, noisy works expected.

Access through Union Rd will remain open for direct access to Union complex for deliveries, clinic appointments, emergency vehicles, etc.

EWP use to Southwest upper section, Structural works to commence. The toilets will be closed whilst working in this area; Elevator will still be operational and noisy works are expected during works.

Site Fence along Union Road to remain in place for duration of project.

6:30am – 5:00pm

For Duration of Project

19 May 2023 –
2 June 2023

     Until May 2024

Eastern Elevation

Cladding removal underway, noisy works expected.

Upper walkway will be closed (accessible in an emergency)

Lower walkway will be closed due to Upper-level scaffold build. alternative pedestrian route is located east and adjacent to existing walkways (Refer to Figure 2)

6:30am – 5:00pm

19 May 2023 –
2 June 2023

Northern Elevation

Scaffolds Build Underway to northern elevation, starting over emergency exit (opened in emergency)

Gantry and Hoist modification works to be undertaken via Crane. Crane lifts will cause some disruptions to Traffic flow in this area, Traffic control will be in place. Some entry and exits will be closed and alternative routes implemented under traffic control. Expected disruption to UQ Centre, Hockey field and Aquatic centre carparks (2 June - refer to North impacts image below)

6:30am – 5:00pm

 

 

7:00am – 3:00pm

19 May 2023 –
2 June 2023

 

2 June 2023

Southern Elevation

Cladding removal to commence, noisy works expected.

Access to Southeast corner will require EWP, Service Carpark to remain closed.

Pedestrian bridge will be closed during EWP use. Alternative Pedestrian Route will be in place.

6:30am – 5:00pm

19 May 2023 –
2 June 2023
Figure 1 Site Layout Plan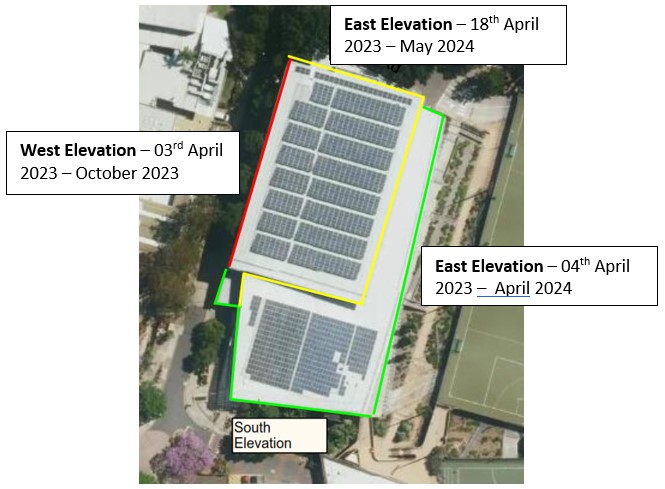 Figure 2 UQ Centre Impacts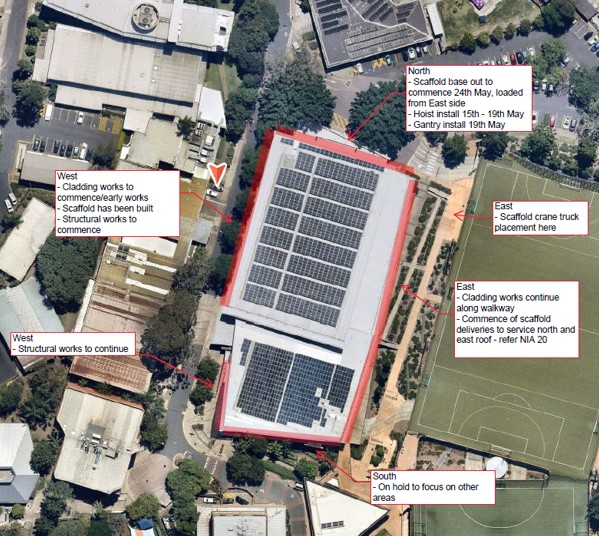 East Impacts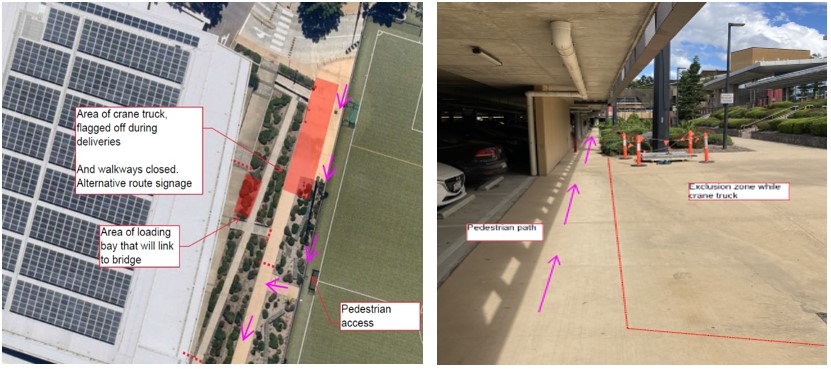 West Impacts

South Impacts

North impacts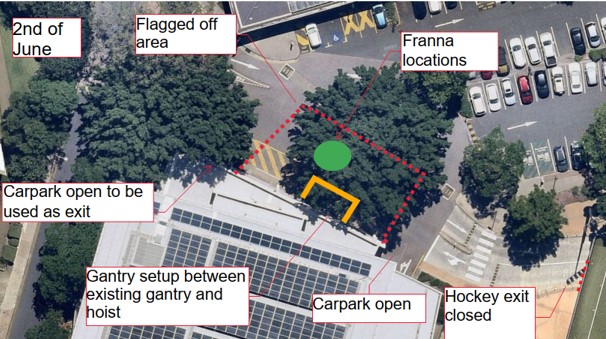 Project details
UQ Centre, St Lucia cladding replacement project. Refer to the Façade Replacement Program website for more information.
Contact
Johnny Hegerty, Project Manager:
We apologise for the inconvenience this may cause and thank you for your understanding during this time.