Construction works for the UQ Lake and Amphitheatre Renewal Project continue, with softscape/hardscape landscaping in the amphitheatre and the lake underway.
The Site location and impacts to pathways, roads and bicycle lanes is shown on the attached site map.
This project is expected to be complete in September 2023 (weather dependant), a timeline can be found on the project website.
Affected areas
Roads, Footpaths and Cycleways:
Pedestrian and cyclist pathways are closed for the entirety of the works.

Road closure at corner of College Road & Thynne Road will be in place until the end of the project. Access to Colleges via College Road and access to P11 via Thynne Road.

Traffic control will be in place on Jocks Road & College Road to manage vehicle movements as required.
Noise:
Truck movements and excavator noise
Work details
14 August 2023 – 25 August 2023
Lake Works

Planting

Existing boardwalk and handrail installation

Concrete works for the bund boardwalk

Topsoil, sand and sandstone placement

Pump installation

Installation of light fittings inside the site and also on the footpath adjacent Conifer Knoll

Installation of fountain pipework

Kerb and gutter replacement along College Rd. Sit fencing will be to be relocated onto the road for these works to occur. Refer more information and images below.

Amphitheatre Works

Defect rectification

Handrail and balustrade installation

Partial opening of the amphitheatre at the end of August
Changes to fence alignment
From now until project completion, a portion of the site fencing along College Road opposite the colleges will need to be moved on to the road to allow approximately 17 metres of new kerb, guttering and footpath to be constructed.
This will temporarily reduce the width of the road to 5.5m (remains compliant for a two way residential street).  Reflective taping will be placed on the edge of the fencing that will move out on to the roadway.
Images – Vicinity and detail of the temporary fence relocation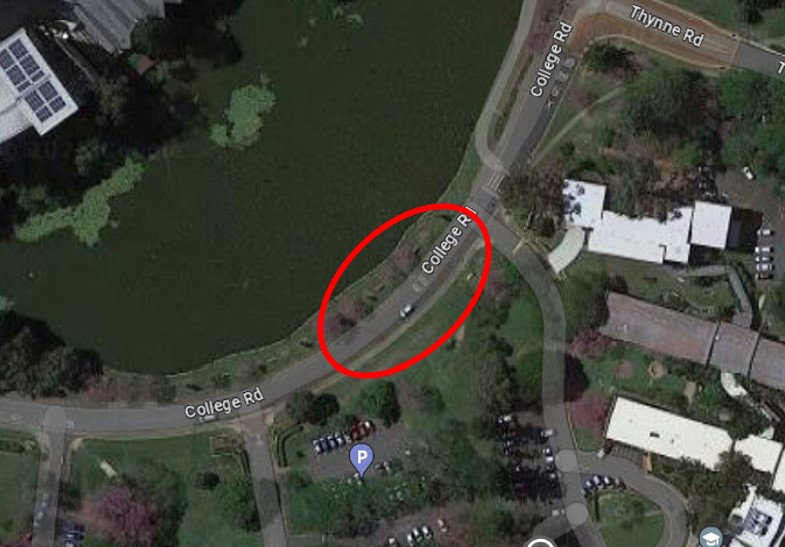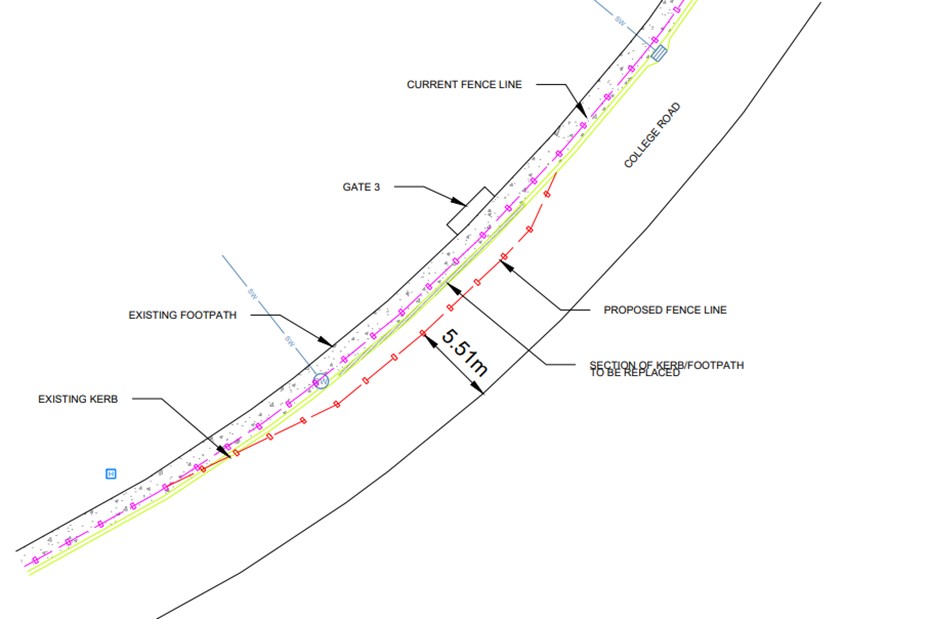 Project details
The iconic UQ lake and amphitheatre is being transformed into a self-sustaining ecosystem that offers habitat for wildlife and more opportunities for people to enjoy the area.
More information can be found on the project website.
Contact
Casey Fredrickson, Project Manager (Infrastructure):
We apologise for the inconvenience this may cause and thank you for your understanding during this time.