General Purpose South (78) façade replacement works will commence soon with site fencing and scaffolding being installed to the northern elevation (Courtyard). This notification provides a fortnightly lookahead for upcoming works and will continue to be issued throughout the project. The project is expected to run from Late August 2023 to June 2024
Lookahead Dates:  28 August 2023 to 28 September 2023
Affected Area & Disruption

Time

Date

The general waste skip bin will be relocated during these works.

The car parks in the courtyard will be closed during these works.

The fire evacuation routes from AEB and GP South will remain open and accessible in the event of an emergency.

The external door at level 2 (courtyard side) which leads into room 207 / 207A will be closed and not accessible. [Note: we are reviewing options to make this accessible for April 2024 class requirements]

Project duration

Project duration

Courtyard Elevation:

Contractor to commence installing site fencing to courtyard area. Refer

Figure 2

for Site compound fencing arrangement.

Contractor to commence installing scaffold to the northern side of GP South as per

Figure 3

below. Courtyard will be closed for periods of time to enable scaffold erection.

The courtyard, including AEB shelving racks, Level 2 engineering laboratory spaces and gas cages will not be accessible during the following period/s:

6 September 23 to 21 September 23

.

Further dates TBC.

Alternative pedestrian and delivery routes to be used.

Contractor will have material deliveries to courtyard during scaffold build and fence installations.

Erection of the scaffold will create noise disruptions for both AEB and GP South building occupants.

06:30am – 05:00pm

30 August 2023

31 August 2023 to 28 September 2023

Ongoing

Ongoing

Level 2 Entry Closure

The Contractor will be installing two overhead gantries to protect the Level 2 Entry and the Tesla Batteries. These will be installed on the 19 September, refer to

Figure 4

for more details.

Level 2 Entry will be closed for these works and pedestrians will be redirected to the Level 1 entry.

6:00am – 5:00pm

19 September 2023

Temporary Power Connection:

Contractor to install temporary power connection to Board 'DB-M'. Isolation between 6am-8am on the 1/09/23.

Isolation will affect:

Fire Panel Level 2

100A 3PH Sewage pump

External lighting

Switchboard room lighting and GPO's

Relevant stakeholders will be informed.

6:00am – 8:00am

1 September 2023

Lakeside Elevation:

No works during this period.

-

-

Level 1 Fire door closure:

The contractor will require the level 1 door (Courtyard fire exit) to be closed during the duration of the project due to Scaffold and exclusion zones. Please see Figure 5 for revised fire evacuation route for this level. Directional and regulatory signage has been installed.

Project duration

Project duration
Figure 1: Site Layout Plan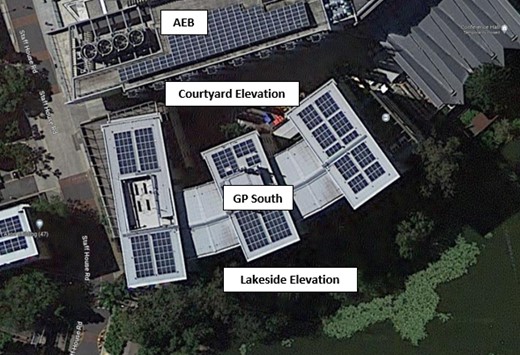 Figure 2: Site Compound Permanent Set-Up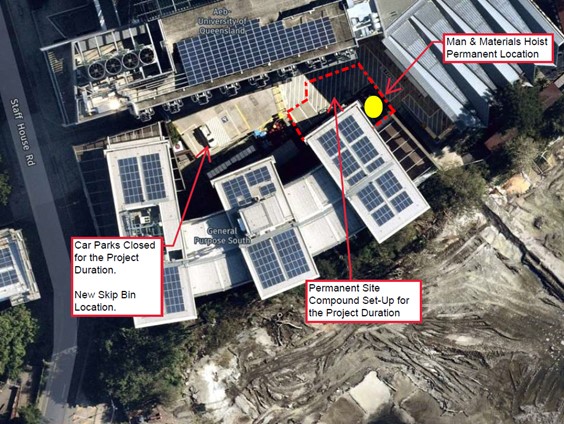 Figure 3: Courtyard Closure for Scaffold Build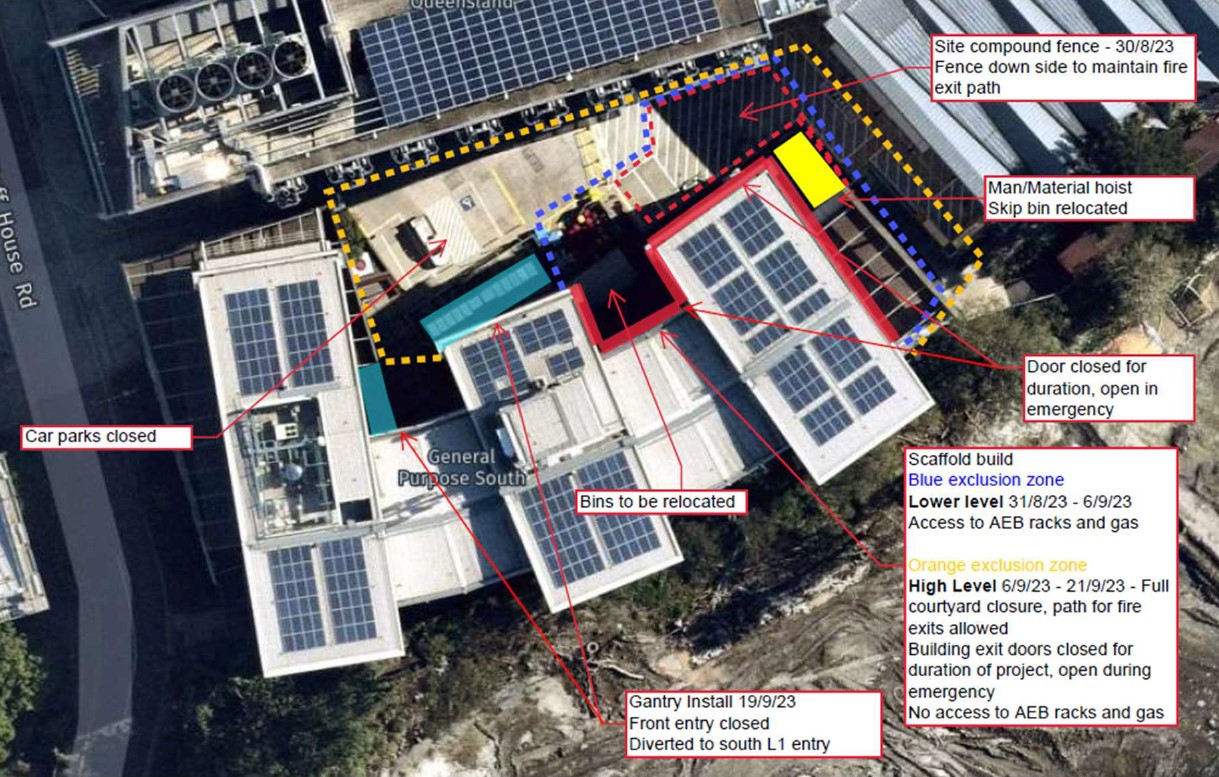 Figure 4: Level 2 Entry Closure for Gantry Build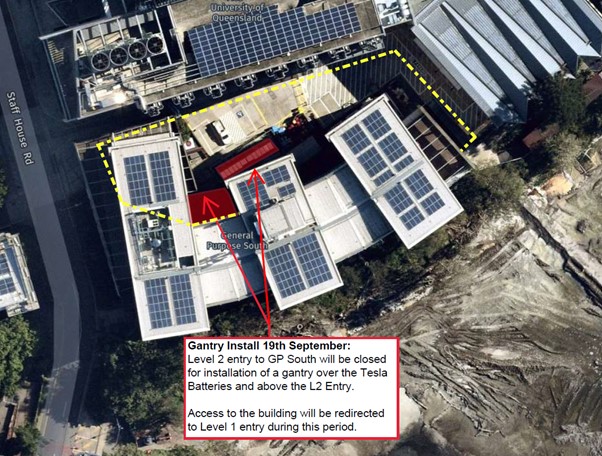 Figure:  Level 1 Fire exit door closed during works.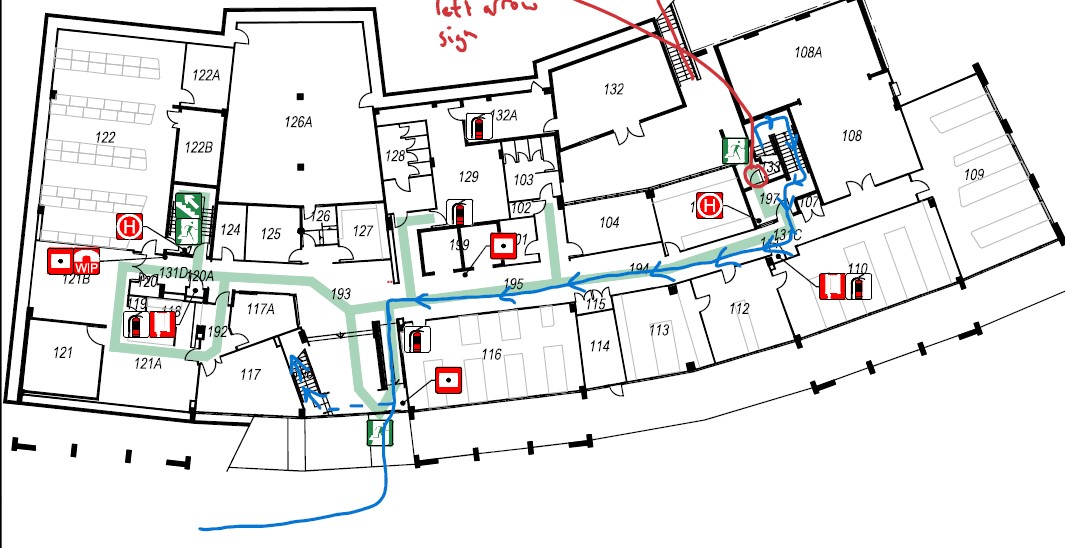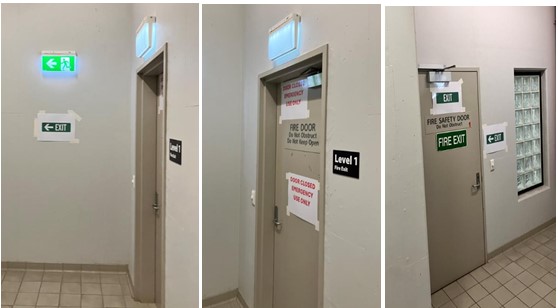 Project details
General Purpose South (78) Façade Replacement project. Refer to the Façade Replacement Program website for more information.
Contact
Johnny Hegerty, Principal Project Officer:
We apologise for the inconvenience this may cause and thank you for your understanding during this time.