The General Purpose South (Building 78) cladding replacement works are ongoing and the notification below provides a fortnightly lookahead for upcoming disruptive works.
This cladding project is expected to run until May 2024.
Timeframe: 18 September 2023 – 29 September 2023
Affected Area & Disruption

Time

Date

North-East Courtyard

Scaffold setup

Courtyard Exclusion Zones in place until approx. 21st Sep.

Noisy works expected from drilling into concrete slabs.

Exclusion zone will shift to next stage of scaffold build (refer North Middle Courtyard section below)

Level 7 – Concrete Services Scan

Internal Access required to Level 7 to scan slab for services.

Hoist install

Noisy works due to drilling into concrete slab on Level 4 and Level 7 at the eastern end of the building

Internal Access required to Level 4 and Level 7

Exclusion Zones – same as existing scaffold exclusion

Noisy works due to hoist build

6:00am – 5:00pm

To be arranged with stakeholder

6:00am – 5:00pm

Until 21/9/23

22/9/23

2/10/23 – 6/10/23

North Middle Courtyard

The Contractor will be installing two overhead gantries to protect the Level 2 Entry and the Tesla Batteries on the 19th September, refer to

Figure 4

for more details.

No deliveries or pedestrian access to the courtyard during this time.

Building front entry closed during install. Entry via Level 1 lakeside entry.

Contractor to commence next stage of scaffold build in the 'north middle' area of the courtyard.

Refer to

Figure 3

below to see exclusion zones that will be in place during this scaffold build:

25/09/23 – 9/10/23: blue exclusion zone. Skip bin will be temporarily moved.

9/10/23 – 23/10/23: yellow exclusion zone. No access to courtyard unless pre-arranged. Access for emergency egress only.

Noisy Works due to scaffold erection

Level 2 building entry may need to be closed intermittently during scaffold build.

6:00am – 5:00pm

6:00am – 5:00pm

19/9/23

25/9/23 – 23/10/23
Figure 1: Site Layout Plan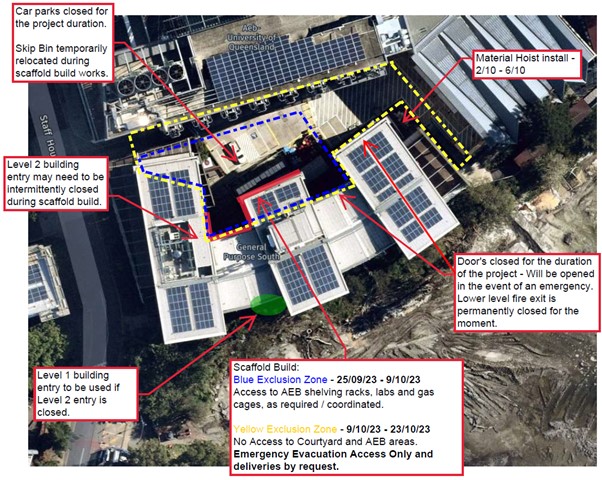 Figure 2: Site Compound Permanent Set-Up Following Scaffold Build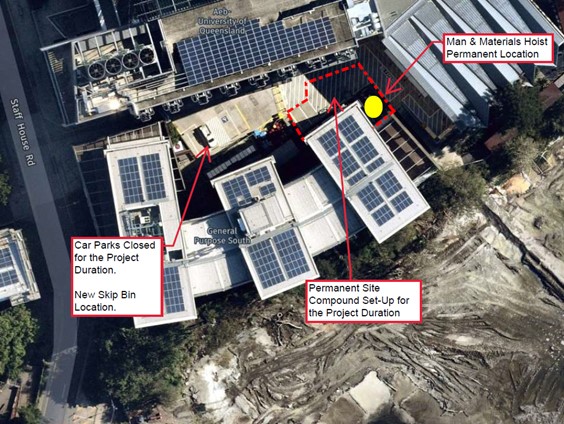 Figure 3: Courtyard Closure for Scaffold Build – Stage 2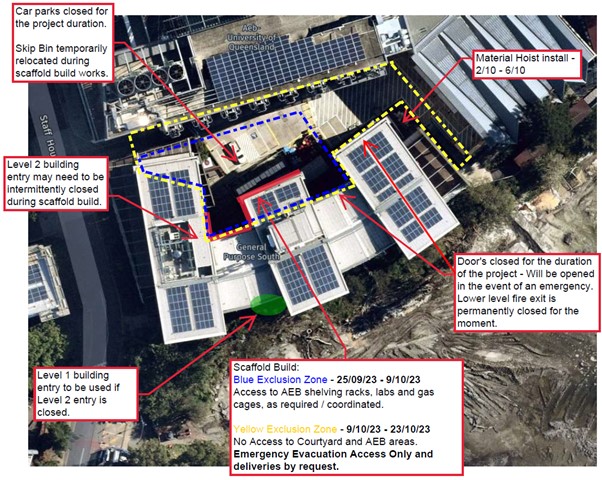 Figure 4: Level 2 Entry Closure for Gantry Build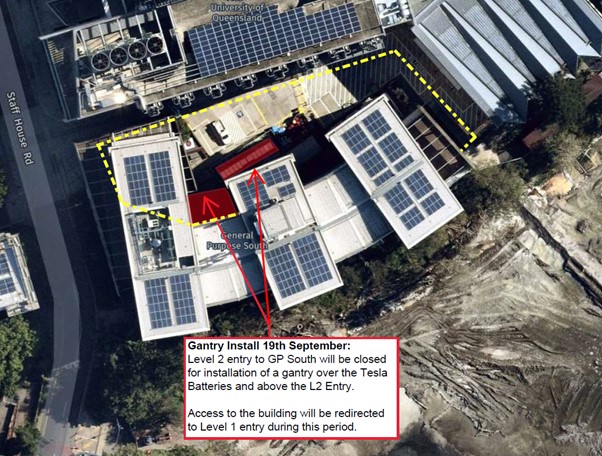 Project details
General Purpose South (78), St Lucia cladding replacement project. Refer to the Façade Replacement Program website for more information.
Contact
Johnny Hegerty, Project Manager:
Casey Fredrickson, Project Manager:
We apologise for the inconvenience this may cause and thank you for your understanding during this time.