The Human Movements Facade Replacement works are commencing with localised exclusion zones to be in place. The notification below provides a fortnightly lookahead for disruptive works.
This cladding project is expected to run until November 2023.
Timeframe: 18 September 2023 - 29 September 2023
Affected area & disruption

Time

Date

South / South-East Elevation

Removal and installation of new facade

Localised exclusion zones at footpaths around the building where facade is being removed from columns. Alternative footpaths to be used.

Access to office / lab spaces internally will be required by the contractor intermittently to replace the cladding panels surrounding the windows. This should only require access for short periods of time, however may also require valuable items to be moved away from windows.

Noisy works from drilling and cutting.

Entry/Exit door between Human Movements and Connell Buildings will be closed during these cladding works – to be open on Emergency. During this time, the Human Movements front entrance is to be used.

6:30am – 5:00pm

18/09/23 to Ongoing
Figure 1: Proposed Work Area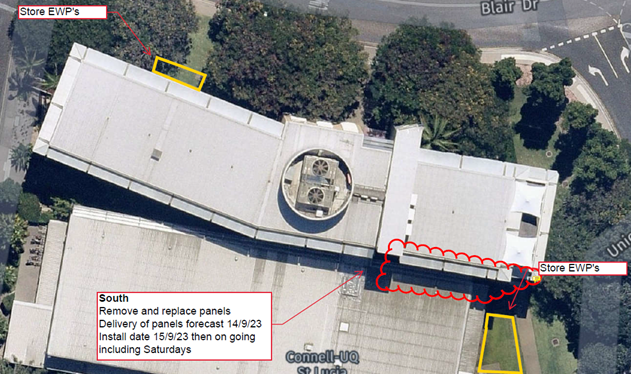 Project details
Human Movement Studies Building Facade Replacement project. Refer to the Facade Replacement Program website for more information.
Contact
Johnny Hegerty, Project Manager:
Casey Fredrickson, Project Manager:
We apologise for the inconvenience this may cause and thank you for your understanding during this time.