The Building 33 cladding replacement works are ongoing and the notification below provides a fortnightly lookahead for upcoming disruptive works.
This cladding project has reached Practical Completion, however the Contractor has Defect Rectification works to complete. It is anticipated these Defects Rectification works will take at least 2 weeks and will be undertaken after 11am. Works will be done from the ground and on mobile elevated work platforms, no scaffold will be installed.
Forecast Timeframe: 20 November 2023 to 1 December 2023
Affected Area > Planned Works > Disruption

Time

Date

Stage 1, 2 & 3 - Defect Rectification Works

Remove and replace damaged cladding

Noise from cutting and drilling, and EWP's

Localised exclusion areas around works

Spray Paint to Fire Panel at Main Entry

Exclusion zone during painting works

Note: No works will be undertaken during Brewpoint Café normal operating hours 7am – 11am.

11:00am - 5:00pm

7:00am -11:00am

20 November 2023 – 01 December 2023

17 November 2023

TBC
Figure 1 Site Layout Defects Rectification Plan: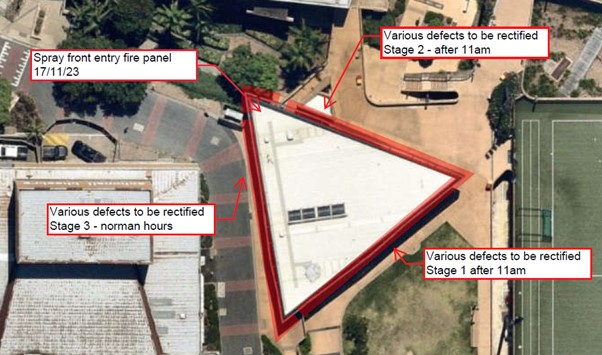 Project details
Building 33, St Lucia cladding replacement project. Refer to the Façade Replacement Program website for more information.
Contact
Johnny Hegerty, Project Officer (Infrastructure):
We apologise for the inconvenience this may cause and thank you for your understanding during this time.