Construction works for the UQ Lakes and Amphitheatre Renewal Project are progressing well, with softscape and hardscape works continuing in both the lake and amphitheatre.
The site location and impacts to pathways, roads and bicycle lanes is shown on the attached site map.
This project is expected to be complete in the mid-2023, a timeline can be found on the project website.
Affected areas
Roads, Footpaths and Cycleways:
Pedestrian and cyclist pathways are closed for the entirety of the works.

Road closure at corner of College Road & Thynne Road will be in place until the end of the project. Access to Colleges via College Road and access to P11 via Thynne Road.

Traffic control will be in place on Jocks Road & College Road to manage vehicle movements as required.
Noise:
Increased noise is anticipated to continue until the end of March 2023 due to paver cutting in the Amphitheatre (refer to the noise impact locations in below image 1).
Work details
15 March 2023 – 2 April 2023
Lake Works

final clay lining works to be completed in the next few weeks (pending rain event recovery);

new boardwalk structure works continuing;

outlet culvert works to commence; and

topsoil and planting works to commence (pending rain).
Amphitheatre Works

sandstone paver installation continuing. Increased noise expected from sandstone paver cutting until end of March 2023;

landscape, softscape and hardscape works continuing; and

sandstone block and landscaping materials (e.g. topsoil) deliveries to continue.
Image 1 – Paver-saw Noise Levels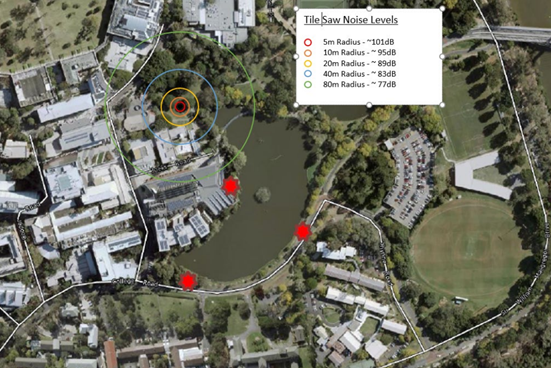 Project details
The iconic UQ lake and amphitheatre is being transformed into a self-sustaining ecosystem that offers habitat for wildlife and more opportunities for people to enjoy the area. More information can be found on the project website.
Contact
Casey Fredrickson, Project Manager (Infrastructure):
We apologise for the inconvenience this may cause and thank you for your understanding during this time.