The Centre for Advanced Imaging (57) forms part of the UQ Façade Replacement Program. As part of these works the cladding on the CAI building will be replaced.
The Contractor has established work areas at the CAI Building in recent weeks and will be continuing access equipment installation and will commence demolition activities. This notification provides a lookahead for the upcoming works and important changes to access to and around the CAI building during this time.
The cladding works to CAI are expected to continue until August 2024. 
Time

Date

Centre for Advanced Imaging

Upper Roof

Installation of a ply walkway to roof for scaffold

Noise from drills and saws to upper levels

All Day

11/09/23 – 15/09/23

South Facade

Commence demolition works to front entrance elevation via rope access:

Intermittent noise from drilling and hammering.

Exclusion Zone as per Image 1 markup.

Works can be stopped if access to the ramp is required for DDA or delivery access to the building.

The building entry will remain accessible during weekday working hours.

All Day

12/09/23 - Ongoing

North Elevation

Laneway garden bed removal – wheelbarrow works

All Day

Until 15/09/23

East Elevation

Pedestrian exit route changes:

Refer to Image 2 - CAI Exit Change Markup which shows the changes to Emergency Exits and general access routes on the East Elevation of CAI for the duration of the project.

Building exit to the loading dock area will be closed during working hours for the duration of works (opened during a fire evacuation)

Pedestrian path between CAI and AIBN will be closed during working hours (opened during a fire evacuation)

Deliveries lifted onto gantry above loading dock. Majority of these deliveries to be completed before 8:30am where possible

Cladding Demolition – noisy works.

Duration of the Project

11/09/23 – Ongoing

11/09/23 – Ongoing

20/09/23 – Ongoing

Ongoing

Ongoing
Image 1 – South Elevation (Building Entry) Exclusion Zone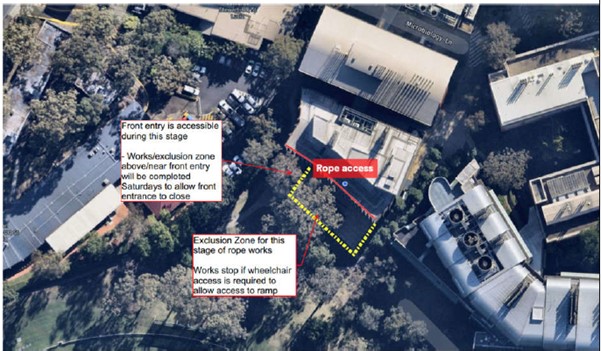 Image 2 – CAI Exit Changes
Work details
St Lucia West Package – Centre for Advanced Imaging Façade Replacement.  Refer to the Façade Replacement Program webpage for more information.  
Project details
St Lucia (West Package) cladding replacement project.
Contact
Mel Marke, Associate Director (Infrastructure):
We apologise for the inconvenience this may cause and thank you for your understanding during this time.